VDB, VDR and WVD Class bogie vans
VDR23011 when newly converted
In 1956 VD23024 was modified to incorporate a freezer compartment and compressor and reclassified VDR. Number 23011 was similarly modified in 1956 followed by 23118 in 1959. Number 23087 was converted in 1960 but this time with only a single door to the refrigerated compartment and 23057 had a similar conversion in 1962. The pioneer van VDR23024 was also altered to the single door arrangement in 1962. The VDR class vans were all used for Ice-cream traffic and carried a "Peter's Ice cream" livery.
The louvres of 23087 were blanked off in 1967 and all of the VDR class wagons were altered to VDB in 1970 with the removal of the refrigeration equipment.
In 1957 three more VD class bogie vans (23026, 23131, 23140) were converted to incorporate a freezer compartment and reclassified WVD. In 1959 number 23131 was modified with a diesel engine generator.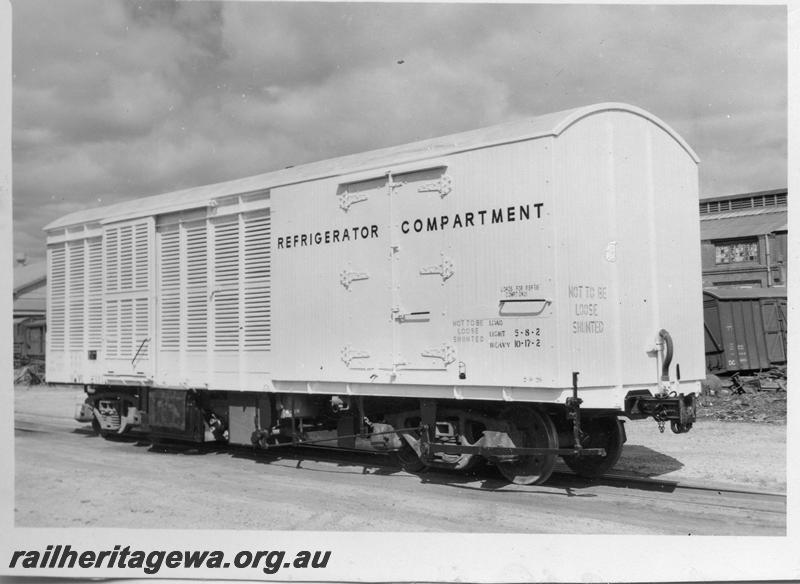 In 1965 the louvres of WVD23026 were blanked off and in 1976 it was converted to class VDB.
In 1980 VDB23118 was written off whilst in 1982 VDB23087 became a VT class filter van. Numbers 23011, 23026, 23057 were written off in 1987 and 23024 was converted to an RCJ class open.
WVD23131 in a very bedraggled state
Other Cold Storage vans

The W.A.G.R.'s other cold storage trucks were classes

E, EA, and EB, and the bogie vehicles in classes W, WA, WAM, WAR, and WBR.